Sep. 22, 2017
Seton High School Hosts Student Leadership Conference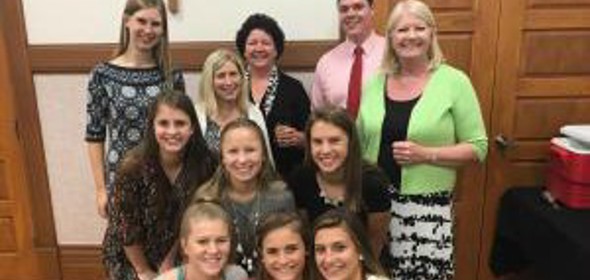 Seton High School hosted two empowering three-day leadership workshops this summer for current students. Activities were focused on the following learning outcomes: self-awareness, self-management, social awareness, relationships, communication techniques, collaboration techniques, goal setting and planning, and problem solving and decision making.
The workshop also included guest speakers as well as alumnae, staff members and friends who participated in a networking session and professional etiquette dinner.
"Every student has the potential to be a leader," said junior Daniella Lucas. "Understanding our strengths as well as acknowledging the strengths of others is one of the many ways that we can grow to be effective leaders. This workshop broke down so many important skills that we could learn about, understand and build upon. I look forward to applying what I learned in this workshop throughout my time at Seton and in the future." 

Among the many discussions and breakouts during the workshop was an etiquette dinner. "Having the chance to network with members of the Seton community while learning proper etiquette at a dinner provided me with knowledge that I know I will need in future career opportunities," said senior Tricia McHale. 

Some of the speakers included current Seton teachers. "I listened to some of my own teachers as they gave talks on various skills necessary to excel in leading, like creating a positive online presence and resolving conflicts," explained McHale, who added that her favorite part of the workshop was meeting with her Seton House members. "Seton's House Government system can be complex and there are so many positive opportunities to make the most of it. The system emphasizes the relationships among all grades and there is so much to learn from one another."

The workshop was planned by Seton's Director of Student Retention, Marianne Ridiman, and Seton's Director of Student Life, Mary Agricola. Plans for leadership workshops for next summer are already in the works.
"There are so many ways students can be leaders at Seton, including both quiet leaders and those who are comfortable in front of a crowd," said Agricola. "Our goal is that these students learn to recognize their strengths and how they can grow and apply them in school, on a team, in a club and throughout life."

Photo: Back Row (L-R): Katie Ritter '09, Maribeth Brown Samoya '81, Ann Colley Jett '84, Luke Jett (Elder 2015), Mary Kerley '76 Middle Row (L-R): Hannah Heisel '19, Madison Cappel '19, Anna Hauer '19 Front Row (L-R): Delaney Dirr '19, Daniella Lucas '19, Camryn Kuchenbuch '19
Visit cincinnati.com to view entire story