Follow us on Facebook
Decades of Music
The Seton-Elder Performing Arts Series was created in 1969 to showcase the musical talents of students from Seton and Elder High Schools. For over 50 years, the Series has offered musical theatre, orchestral performances, drama productions, and vocal/instrumental concerts to sold-out crowds. Please join us for one of our productions during the 2021-2022 season! 
Thank you to all who attended our Christmas Concerts! Please see below about our Special 50th Anniversary Concert on February 12th, 2022.
UPDATE: Out of an abundance of caution and due to concerns with a rise in COVID cases, rehearsals for the alumni insturmentalists this evening and alumni mixed chorus tomorrow evening have been cancelled. We ask those who have signed-up online for there groups please keep an eye on your emails in the coming days for more details.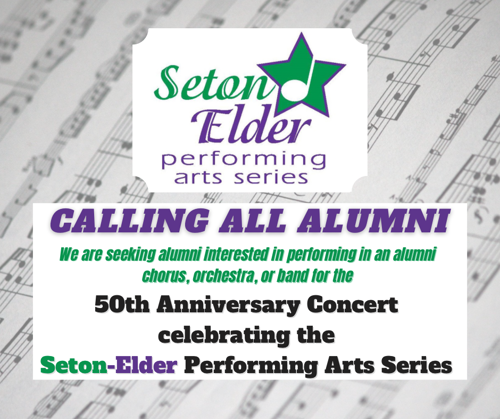 Dear Seton & Elder Alumni,
We are excited to announce the upcoming 50th Anniversary Celebration of the Seton & Elder Performing Arts Series. Please join us on February 12, 2022, for a very special night to commemorate this occasion with a reception and a special 50th Anniversary Concert in the Tom and Janis Kelley Family Theater (formerly the Seton Performance Hall).
More details about the evening will be announced in January. We would like to take this opportunity to invite any interested alumni to participate on stage in the concert. We are collecting information for interested singers for an alumni chorus and instrumentalists for an alumni orchestra and band.
If you are interested in participating, please complete the following Google form: https://forms.gle/bfiAYRmszDBAULpF8 
Please pass on to people who you know who may be interested in this!
Rehearsal for the chorus will take place on the following Thursdays from 7:00 pm to 9:00 pm at Seton: January 13th, 20th, 27th, and February 3rd, 2022.
Rehearsal for the orchestra will take place on the following Wednesdays from 7:30 pm to 9:30 pm at Seton: January 12th, 26th, and February 2nd, 9th, 2022.
The band is to be determined at the moment. We are trying to gauge interest and will coordinate rehearsals and a program in early January.
A dress rehearsal will be held on Thursday, February 10th at 7:00 pm for all performing.
We sincerely hope you will join us for this historic evening celebrating 50 years of the Seton and Elder Performing Arts Series.
Please do not hesitate to contact us with any questions by emailing kohlerj@setoncincinnati.org or calling 513-471-2600 ext.#2034.
Sincerely,
The Seton-Elder Performing Arts Series Staff