Important Athletic Forms for All Potential Athletes
Registration for FinalForms must take place for each Seton student.  Previously enrolled athletes and parents are required to log in to FinalForms to update any changes or confirm the previously completed information at this time.  Each athlete must select ALL sports that they are interested in. You can always unsubscribe from a sport if you decide you are no longer planning to try out.
All students interested in trying out for a sport are required to complete and turn their OHSAA physical to Seton in order to try out as soon as possible.  The blank OHSAA physical form can be found HERE.

Once the physical is complete and signed off by a physician, you must then turn it in to the Athletic Department.  Please mail it to Seton, drop it off during office hours, upload to your FinalForms account, or email it to Athletic Trainer Cindy Busse at bussec@setoncincinnati.org.

Athletic information for the 2021-21 school year can be found HERE.

Once teams are selected each season, an OHSAA mandated meeting will be held for those that make a team.  Paperwork will be given to the athletes as well as emailed to families to complete and turn in at the parent meeting.
NEW! Seton Sideline Store Now Open!
Seton High School is excited to announce our newest partnership with BSN Sports:  the Seton Saints Sideline Store!  This online based store offers hundreds of spirit wear options, and all orders will be sent directly to your home. Get your green on and show your Seton pride!!  Check out the most recent sale and shop HERE!
Class of 2021 National Letter of Intent Signing
Congratulations to these dedicated and talented student-athletes from the Class of 2021 who are continuing their academic and athletic careers in college!  We are proud of your accomplishments and are excited to watch you compete at the next level!


Hailey Autenrieb
 - University of Evansville, Soccer
Lucy Cluxton – Northern Kentucky University, Volleyball
Emily Durr – Sienna Heights University, Lacrosse
Grace Hehman -
 Wittenberg University, Lacrosse
Maddy Hensler – University of Cincinnati, Swimming
Ellie Hoeweler
 - University of Cincinnati, Dance
Maggie Jones – North Carolina State University, Volleyball
Julia Marr – Western Michigan University, Volleyball
Molly Pressler 
- University of Toledo, Swim
Marie Schenkel

 

- Miami University Hamilton, Basketball
Natalie Schutte – Xavier University, Soccer
Caitlyn Shoemaker
 - Thomas More University, Soccer

Lauren Silbernagel
 

- Mount St. Joseph University, Volleyball

Maddie Vaughn – Thomas More University, Softball
Josie Williams
 

- Wittenberg University, Basketball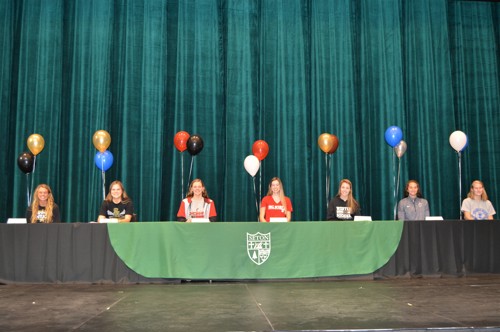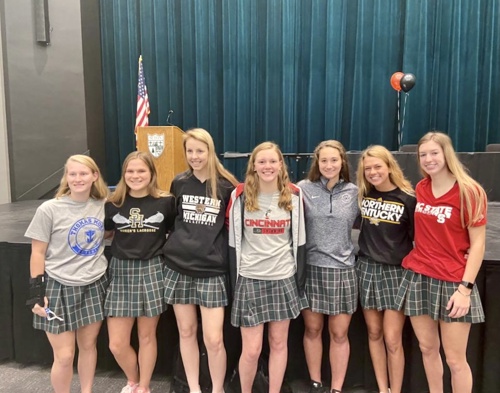 Seton Saints Athletic Items for Sale
The Seton Athletic Department is selling the following items:

Lime green folding chair with carrying bag:  $30
Gray and black folding steel frame chair:  $45
Removable sport-specific circular cling:  $5
S-Halo water bottle:  $10
Face gaiter:  $15 or two for $25
Nike dri-fit adjustable hat, black or white: $25
Nike black dri-fit adjustable visor: $20
For additional information, click HERE.
If you are interested in purchasing any of these items, please contact Kellie at kammerk@setoncincinnati.org.