Thank you for supporting our
11th Annual Athletic Boosters Golf Outing!

Important Athletic Forms
Registration for FinalForms must take place for each Seton student.  Seton's Administration sent an email in early June on the enrollment process.  Previously enrolled athletes and parents are required to log in to FinalForms to update any changes or confirm the previously completed information at this time.  Each athlete must select ALL sports that they are interested in. You can always unsubscribe from a sport if you decide you are no longer planning to try out.
All Athletes are required to complete and turn their OHSAA physical to Seton in order to try out.  The blank OHSAA physical form can be found HERE.

Seton will not be hosting physicals at school this year or in the future.  Click HERE to read a letter from TriHealth with additional information.  It is recommended that all athletes see their primary care physician for their annual physical.  Once the physical is complete and signed off by a physician, you must then turn it in to the Athletic Department.  Please mail it to Seton, drop it off during office hours or email it to Athletic Trainer Cindy Busse at bussec@setoncincinnati.org.

For additional information for the 2020-2021 athletic seasons for all students and parents can be found HERE.


Face Masks On Sale!
The Athletic Department is now selling Seton face masks!  This 9" x 9" half gaiter is 
proudly made in the USA and 
is a full dye sublimation imprint with green and black S-halo.  It can be worn several different ways, including face cover, headband or wristband, can easily pulled down around the neck when not in use and is washable.
Face masks are $15 each, or two for $25.  Cash or check can be made payable to Seton High School.  
Contact Kellie at kammerk@setoncincinnati.org or 513-471-2600 ext. 2417 to place your order.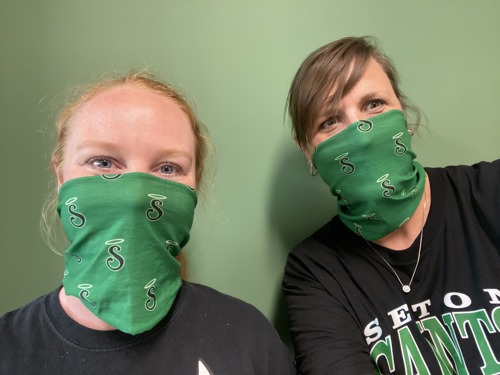 Class of 2020 National Letter of Intent Signing
Eight additional Seton student-athletes from the Class of 2020 signed their Letter of Intent to play at the next level. This signing day was a time for our Seniors to celebrate the occasion with the family, friends, coaches and teammates. While this one was done remotely, it is truly a special occasion for these young ladies.  To see their virtual signing, please click on the following link at the 2:45 minute mark of the following video: https://bit.ly/3clAmPM

The eight Seniors that signed this April are:
Ava Beltsos – Transylvania University – Volleyball
Ali Breig – Thomas More University – Bowling
Ella Breitfelder – Mount St. Joseph University – Basketball
Hannah Lane – Thomas More University – Softball
Madison Littelmann – Thomas More University - Bowling
Grace Martin – University of Mary Washington – Soccer
Eve Ruehl – Mount St. Joseph University – Soccer
Annabelle Schaefer – Thomas More University – Swimming

They join five classmates in the Class of 2020 that signed their Letter of Intent in November:
Ellie Flower – University of Cincinnati – Soccer
Kayla Hess – Mount St. Joseph University – Cross Country
Julia Hoffmann – University of Cincinnati – Soccer
Suzanne Klosterman – LaSalle University – Volleyball
Hailie Morgan – Thomas More University – Basketball
Congratulations and best of luck to the entire Class of 2020!


Seton Saints Chairs and Clings
The Seton Athletic Department is also offering the following items for purchase:
Lime green folding chair with carrying bag:  $30
Gray and black folding steel frame chair:  $45
Removable sport-specific circular cling:  $5
S-Halo water bottle:  $10
Face covering:  $15 or two for $25
For additional information on the chairs and clings, click HERE.
If you are interested in purchasing any of these items, please contact Kellie at kammerk@setoncincinnati.org.