Seating Capacity Mandate
For all winter sports, spectator seating capacities are limited to immediate families, with a ticket allotment per student-athlete.  There will be no "general admission" tickets available.  This season's basketball games will be streamed on our YouTube Channel, which can be found HERE.
National Letter of Intent Signing
Congratulations to these dedicated and talented senior student-athletes who are continuing their academic and athletic careers in college!  We are proud of your accomplishments and are excited to watch you compete at the next level!
Lucy Cluxton – Northern Kentucky University, Volleyball
Emily Durr – Sienna Heights University, Lacrosse
Maddy Hensler – University of Cincinnati, Swimming
Maggie Jones – North Carolina State University, Volleyball
Julia Marr – Western Michigan University, Volleyball
Natalie Schutte – Xavier University, Soccer
Maddie Vaughn – Thomas More University, Softball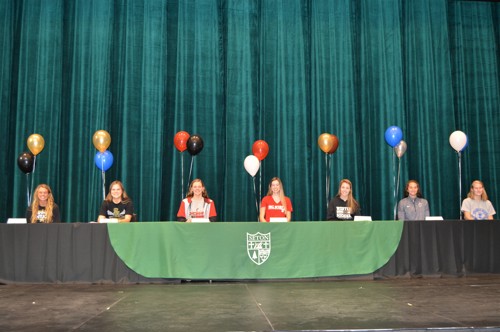 Registration for FinalForms must take place for each Seton student.  Previously enrolled athletes and parents are required to log in to FinalForms to update any changes or confirm the previously completed information at this time.  Each athlete must select ALL sports that they are interested in. You can always unsubscribe from a sport if you decide you are no longer planning to try out.
All athletes are required to complete and turn their OHSAA physical to Seton in order to try out.  The blank OHSAA physical form can be found HERE.

Seton will not be hosting physicals at school this year or in the future.  Click HERE to read a letter from TriHealth with additional information.  It is recommended that all athletes see their primary care physician for their annual physical.  Once the physical is complete and signed off by a physician, you must then turn it in to the Athletic Department.  Please mail it to Seton, drop it off during office hours or email it to Athletic Trainer Cindy Busse at bussec@setoncincinnati.org.

For additional information for the 2020-2021 athletic seasons for all students and parents can be found HERE.


Seton Saints Athletic Items for Sale
The Seton Athletic Department is selling the following items:

Lime green folding chair with carrying bag:  $30
Gray and black folding steel frame chair:  $45
Removable sport-specific circular cling:  $5
S-Halo water bottle:  $10
Face gaiter:  $15 or two for $25
Nike dri-fit adjustable hat, black or white: $25
Nike black dri-fit adjustable visor: $20
For additional information, click HERE.
If you are interested in purchasing any of these items, please contact Kellie at kammerk@setoncincinnati.org.