Varsity Softball
Varsity Head Coach: Terri Betz Smith
Assistant Coaches: Julie Dalton, Ann Lally

2021 JV & Varsity Softball Roster


Student and Parent Meetings
All Spring Athletes must attend the student meeting on Wednesday, March 3, taking place at 2:20 p.m. in Seton's gym.

The Parent Meeting will be held on Wednesday, March 10 with registration starting at 6:30 p.m., followed by the general meeting at 7:00 p.m. in Seton's gym.  Paperwork will be given to the athletes, as well as emailed to families to complete and turn in at the Parent Meeting.


Softball Spirit Wear Shops Now Open
We are offering two different options for Spring Athletics Spirit Wear:  BSN and Underground Sports Shop.  All items will be delivered to Seton and distributed through the student-athletes unless otherwise specified.

The BSN Team Shop has the necessities an athlete will need as part of her uniform, as well as other spirit wear options.
The BSN Team Shop will be open through March 3.  Shop now HERE.

The Underground Sports Shop also has various spirit wear options available. When ordering please pay attention to the sport you choose.
Be sure to check the size chart, as some items are junior sizes. If you have questions, please contact Frank at frank@undergroundsportsshop.com.
The Underground Sports Shops can be found below, and will be open through March 7:
Athletics
Spring Sports


National Letter of Intent Signing
Congratulations to Senior Maddie Vaughn on her commitment to continue her academic and softball careers at Thomas More University next year!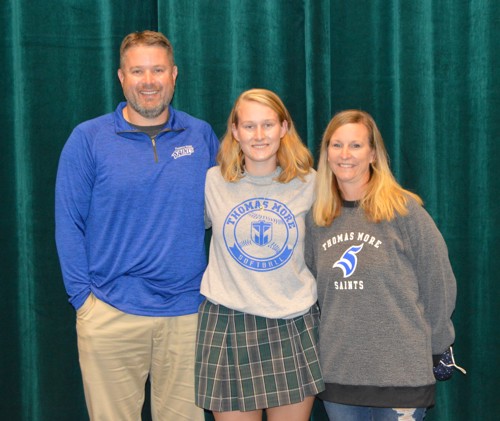 Junior Varsity Softball
JV Head Coach:  Stephanie Boyce
Assistant Coaches: Danielle Hoffman, Stefanie Kathman