Varsity Head Coach:  Elizabeth Anderson Bengert
JV Head Coach, Varsity Assistant Coach: Becca Meyer
Assistant Coaches:  Jake Lammers, Sydney Vinel

2021 JV & Varsity Lacrosse Rosters
2021 JV & Varsity Lacrosse Schedule  *All dates and times subject to change
Parent Meeting
The Parent Meeting will be held on Wednesday, March 10 with registration starting at 6:30 p.m., followed by the general meeting at 7:00 p.m. in Seton's gym.  Paperwork has been given to the athletes, as well as emailed to families to complete and turn in at the Parent Meeting.


Lacrosse Spirit Wear Shop Now Open
The Underground Sports Shop has various spirit wear options available. When ordering please pay attention to the sport you choose.
Be sure to check the size chart, as some items are junior sizes. If you have questions, please contact Frank at frank@undergroundsportsshop.com.  All items will be delivered to Seton and distributed through the student-athletes.  The Underground Sports Shops can be found below, and will be open through March 7:
Athletics
Spring Sports
National Letter of Intent Signing
Congratulations to Senior Emily Durr on her commitment to continue her academic and lacrosse careers at Sienna Heights University next year!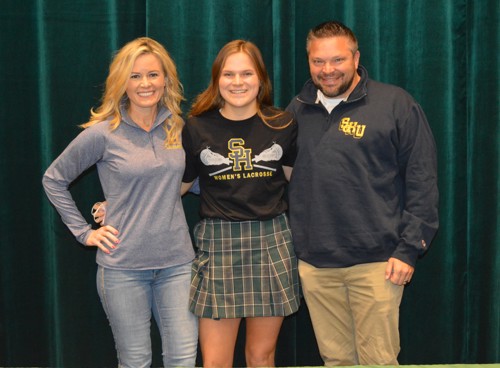 Varsity Head Coach:  Elizabeth Anderson Bengert
JV Head Coach, Varsity Assistant Coach: Becca Meyer
Assistant Coaches:  Jake Lammers, Sydney Vinel