May. 12, 2017
Seton students take SNAP Challenge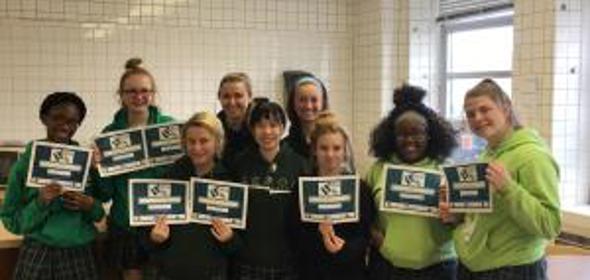 Some Seton students participated in the SNAP, or Supplemental Nutrition Assistance Program, Food Challenge, a program created by the Society of St. Vincent de Paul and the Ozanam Center in Over-the-Rhine to increase awareness of poverty and its effects on nutrition.
Mary Ritter's health class embraced the challenge, but it was Kate Schlosser, Seton French teacher and former Urban Plunge Retreat chaperone, who brought this to Seton. To complete the challenge, students had to shop for and prepare a meal with limited resources according to government regulations.
Students were in groups of three, to simulate a family. Each "family' of students had the maximum possible amount of $4.20 to spend on unprepared food for a meal.
"Students were initially daunted by the restricted funds," Schlosser said, "buteach group found a way to make a meal for three: pancakes and fruit, grilled cheese and soup, and spaghetti with garlic bread."
"The SNAP challenge made me more aware of how hard it is find a healthy meal for a family with only a very limited amount of money to spend," senior Emma Bruggeman said. "I didn't think that this challenge would be difficult, but when I got to the store, I realized it was very hard to stay under the $4.20 budget we were given. It's a good reminder that there are people around me having to provide for their family like this every day."
The experience gave all involved new perspectives on the value of food and the struggles of people with low-income. 
See whole article: http://local.cincinnati.com/share/story/249827