Aug. 7, 2017
Seton students attend Hugh O'Brian Youth Leadership Conference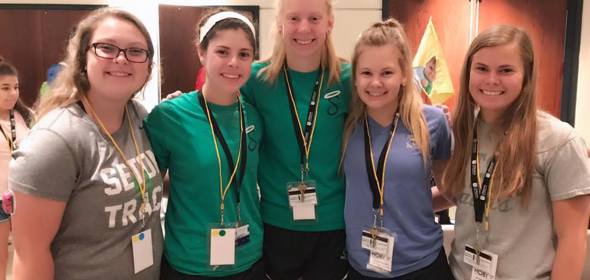 Congratulations to the following Seton students from the Class of 2019 who attended the 2017 Hugh O'Brian Youth Leadership Conference, or HOBY, this summer at Urbana University: Annabelle Gonnella, Kylie Hambleton, Veronica Richards, Olivia Rider and Madelyn Schutte.

These students participated in HOBY's empowering three-day leadership seminar to recognize their leadership talents and apply them to become effective, ethical leaders in their home, school, workplace and community.

"HOBY not only inspired me to be the best leader for my school, but gave me the knowledge in order to be successful," said Olivia Rider.

HOBY programs are conducted annually throughout the United States, serving local and international high school students.

These students are selected by their schools to participate in unique leadership training, service-learning, motivation-building and team-building experiences.

"Through insightful speakers, challenging activities and open discussions, I learned the tools needed to create and carry out projects I want to integrate at Seton. I am excited to bring what I learned at HOBY back to Seton," Rider said.
See whole article:  http://local.cincinnati.com/share/story/251460