May. 11, 2017
Seton High School hosts career day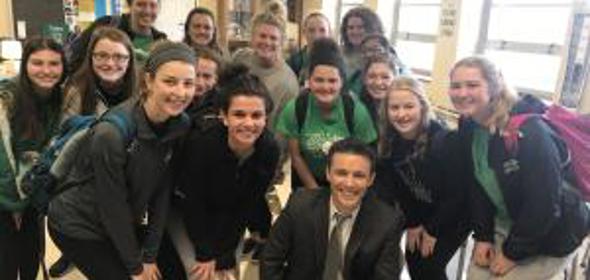 Seton High School recently hosted Career Day during an all-school assembly.
The event highlighted 44 guests representing 35 career fields as well as a panel of current college students. Seton students chose three professionals and listened to presentations during 25-minute presentations. This was the third time that Seton's academic advisors have conducted Career Day.   
"Students love Career Day because it allows them to make connections," academic advisor Robyn Schwarz said. "They get first-hand information from professionals in the work force, and it's great to see their excitement as they learn about different careers and the opportunities they have. This day gives students the chance to take a step back and ask, 'Is this what I can see myself doing?' and 'What steps do I have to take to accomplish this goal?'" Schwarz said.
Students were appreciative of the variety of career options that they could explore. "It was a great opportunity to learn about possible careers and to start thinking about what I may want to do in the future," said freshman Samantha Zimmer. "I attended sessions on pharmacy, real estate and forensic criminal justice, and each guest speaker gave great details about what a normal day in their jobs entail as well as their educational path that led them there." 
Many of the guest speakers were alums.
"The diverse careers of Seton alumnae and supporters is an awesome connection for the students," said Jenn White Brogan '96, who spoke to students about her career in social work. "Thinking about career, college and next steps can be really overwhelming for a high school student, so if a professional with a Seton connection can share their story and how they got there, hopefully the road can be a little smoother."
"I am personally thankful for the opportunities, experiences and 'mentors' I had along the way to deciding where my passion fit in a professional world," Brogan said. "As usual, Seton nurtures building education and strength in young women and I am happy to be any tiny part of that."
See whole article: http://local.cincinnati.com/share/story/248802