Mar. 28, 2021
'A rite of passage': Cincinnati-area schools plan for proms with COVID-19 precautions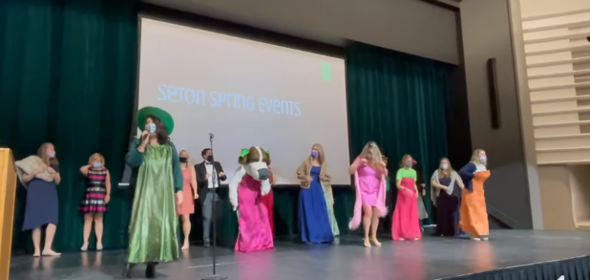 At Seton High School, senior Paige Schultz says pre-prom excitement is already in full swing. Girls lug dresses across school hallways to trade with their friends, tanning appointments are being scheduled and the two most crucial questions of the season echo across campus:
"Who are you asking?"
"Do you like this dress?"
There's more than a glimmer of hope in Paige's voice. She remembers this time last year, watching her class of 2020 friends miss out on their last two months of high school: the father-daughter dance, the senior awards ceremony, prom.
But now, things are starting to feel almost normal.
"I still can't believe it," Paige says. "And now I have so much to think about and get ready for, and I'm just very excited for the next two months." 
To read entire story click the link below:
https://www.cincinnati.com/story/news/2021/03/22/prom-2021-look-cincinnati-area-schools-and-their-prom-plans/4717655001/?fbclid=IwAR1dDrhAFiXT_JOP7HiJu6B04jBvQt3qFKgx7tZ9RfiFtJqfEnEp9Ni1Wf8
Click HERE to read another story about Prom this year.
https://www.wcpo.com/news/local-news/hamilton-county/cincinnati/prom-plans-return-for-seniors-and-businesses?fbclid=IwAR1sJAJGLw2Jp9dNEbEGN9ShiODybaEmzF8f8etbQhIxyFiN9DowQcXYLGY