Aug. 14, 2017
Mr. Jason Berling, selected as a 2017 James Madison Foundation Fellow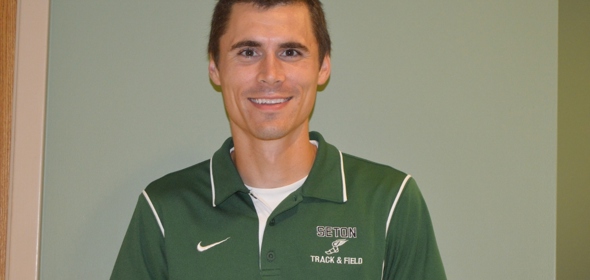 Reaching Higher Academically
Keep Soaring, Mr. Berling!
Seton High School is proud of Mr. Jason Berling, who was selected as a 2017 James Madison Foundation Fellow. A James Madison Fellowship funds up to $24,000 of each Fellows course of study towards a master's degree. It specifically supports the graduate study of American history by aspiring and experienced secondary school teachers of American history, American government and civics. He was among 52 James Madison Fellows who were selected in competition with applicants from each of the 50 states, the District of Columbia and Puerto Rico.
Berling currently teaches United States History, AP United States History, and AP American Government and Politics. He is looking forward to how this opportunity will benefit his students here at Seton.
"Even more important than my own interest in the material is the fact that this will make me a better teacher," said Berling, who began classes for the Ashland Master of Arts in American History and Government Program this past summer. "I will get to focus and drill down into the content via primary source documents, getting deep into the actual history and beyond the simple and boring traditional approach to history.  This provides me the opportunity to get into the heads of the people who were directly involved with the history itself, and then be able to bring those skills and experiences back to the students of Seton High School."
Among the many exciting aspects of this program, Jason is especially looking forward to spending four weeks in Georgetown during the summer of 2018 where he will get to hear several renowned lecturers on American History and Government. In addition, he will attend sessions at historical places. "I'll be learning in places like Montpelier where James Madison's home is, Monticello where Thomas Jefferson's home is, and Mount Vernon where George Washington's home is," Berling explained. "There will also be sessions in the US Capital Building, the White House and the Supreme Court."
The focus of both the Madison Fellowship Program and the Ashland Master of Arts in American History and Government is on building a better citizenship by creating teachers who have a deep and thorough understanding of the original documents and how to use them.  "While this is the way I already try to teach the class, I will now be building my ability to teach the students how to read, interpret and use history," Berling explained.  "This skill is transferrable, meaning that what the students will be doing and learning goes far beyond the recalling of simple facts."
Berling's goals focus on finding ways to present American history and American government to the all-female student audience here at Seton. "I want to see my students studying social sciences, running for political office, and developing a sense of empowerment and political efficacy."
(photo) Seton High School teacher Jason Berling has been selected as a 2017 James Madison Foundation Fellow. In addition to currently teaching at Seton High School, he has been one of Seton's Cross Country and Track and Field coaches since 2012.