Aug. 23, 2019
Seton students returned to $7 million in renovations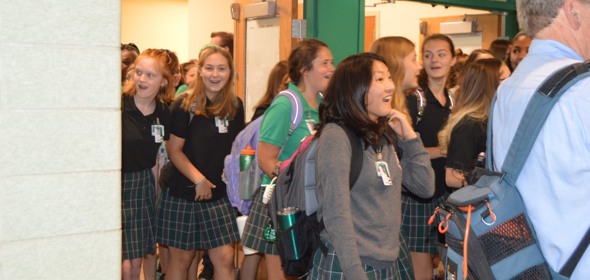 WEST PRICE HILL, Ohio (WKRC) - For the first time, students at Seton High School saw the building's new look. Construction crews finished the project just in time for the new school year.
Seton HS students are back at school today after a $7 million, 12 week renovation project of their building. The start of class was delayed by a week.
Students returned to a lot of changes and there are upgrades throughout the building. The most noticeable is the Halo Cafe. The cafeteria underwent a two million dollar renovation.
In just 12 weeks, the major renovations were completed at this building and the cafeteria funded by an anonymous donor.
There are new chair areas, seating areas, communal areas. They also have three different spaces for food and a coffee station.
The seniors at Seton HS get the first look at the brand, new, $2 million cafeteria, which includes a coffee bar from Coffee Emporium.There are some other changes around the building including a new student center, furniture, lighting, windows, and the entire building is now air-conditioned.
This took a lot of work. Seven million dollars over 12 weeks.
The cleanup took a little longer than expected, so students headed back to class a week later than planned.
Leaders say pushing back the start of school by one week won't affect the school calendar for the rest of the year.