Apr. 2, 2018
Seton and Elder students interview Cardinal Versaldi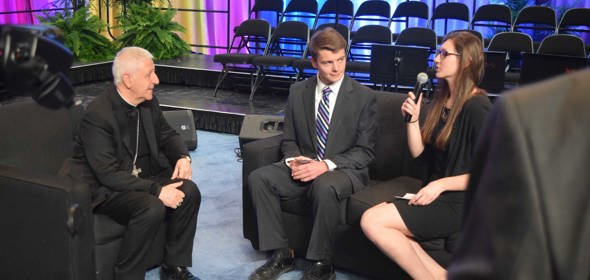 On Monday April 2nd, students from Elder and Seton High School were given the amazing opportunity to interview His Eminence Cardinal Guiseppe Versaldi as he attended the Conference of the National Catholic Educators Association which was being hosted at the Cincinnati Convention Center.
Technology Director, Mr. Jeff Fuell and Journalism teacher Mr. Gary Rogers accompanied student videographers Jack Langen and Adam Duwell along with interviewers Lou Langen of Elder and Amanda Rapien of Seton.
Langen and Rapien spent about 14 minutes with the Cardinal and asked questions ranging from what does a Cardinal do on Easter Sunday to his opinion on how the Church can be more engaging with today's Catholic high school students.