Nov. 30, 2017
Seton basketball coach Amanda Lewis teaching team to believe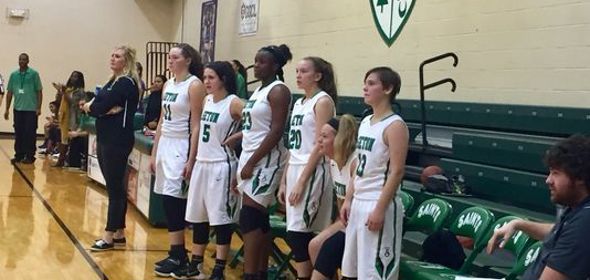 Read full story and view great pictures on Cincinnati.com.
Last Saturday, the Seton High School girls' basketball team's locker room was all smiles after a 61-48 win over Chaminade-Julienne to finish the Walnut Hills Kick-Off Tournament.
It had been awhile since the Saints' post-game party was that jubilant. Last season, Seton didn't win its first game until mid-December and finished the year in the cellar of the GGCL with a 2-20 record.
"We were excited," said senior point guard Carly Perrmann, who had a team-high 19 points. "I know our coach came in screaming. It was good to get a win in the very beginning of the year. I think it shows we're ready for this season."
"Just getting that win helps their confidence," second-year head coach Amanda Lewis said. "It lets them realize how good they are if they come out ready to play."
Lewis has repeatedly preached self-assurance to her team. Over the weekend, she noticed those calls for confidence had paid dividends.
"I would say it was a world of difference compared to last year," Lewis said. "They came out with more confidence. I think just believing in themselves is huge toward the success of this team."
Lewis took the job at Seton in 2016 and knew she was in for tough sledding early on. A rebuilding process that started with a team that lost the GGCL's leading scorer, Stefanie Autenrieb, and won just one conference game the year prior. After just two wins in last year's campaign, Lewis acknowledges that the Saints' remodel is still under construction going into this season......