STEAM CLUB 
The Seton Science, Technology, Engineering, Art, and Math (STEAM) club has four objectives for the 2017-18 school year.
Preparation for the TSA- TEAMS competition at the University of Cincinnati.
Learning the basics of coding.
Designing and building a CANstruction sculpture for Seton's Open House.
Assist Seton students to be placed in local engineering companies to shadow or intern.
Moderator: Mrs. Lois Childers
Membership is open to any interested student. Please contact Mrs. Childers at childersl@setoncincinnati.org for more information. 
Field Trips
Making it Real Field Trip to VEGA America
On October 27, 2016 five Seton students spent the day at VEGA Americas, an advanced manufacturing facility in Oakley.  The visit was organized by Dream It, Do It OKI as part of their "Making It Real: Girls and Manufacturing" program.  This annual event is designed to familiarize female high school students with career opportunities in modern manufacturing. 
The students witnessed first-hand the various aspects of Vega Americas' operations, from engineering, testing and fabrication, to marketing and human resources. During lunch the students enjoyed a question and answer session with four female professionals from different departments within VEGA Americas along with Icy L. Williams, CEO and owner of ATMOS 360 Inc.  The panelists shared their educational backgrounds along with what it's like to work in a modern Advanced Manufacturing business.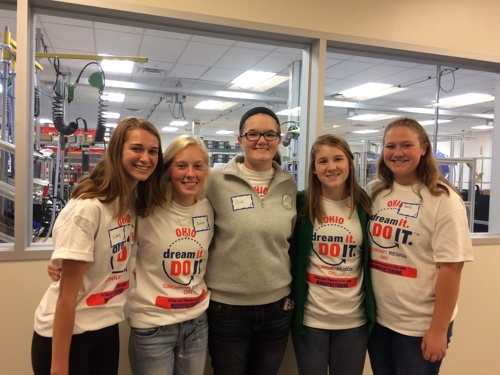 (Juniors:  Libby Mannix, Katie Erpenbeck, Sophomores: Olivia Hensley, Julia Gibbs, Rachel Meyer,)
GE Women in Leadership Workshop
On December 8, 2016, Honors Precalculus students took the opportunity to participate in the Women Leadership Workshop at General Electric in Evendale in Cincinnati. This half-day workshop was devoted to connecting young women to high performing professionals in a casual environment in order to foster leadership and mentoring. The event explored topics including "Leading as Women", "Personal Board of Directors", and "The Power of Diversity". Students participated in round-table discussion with GE professionals from engineering, sales, finance, accounting, human resources, marketing, operations, and information technology.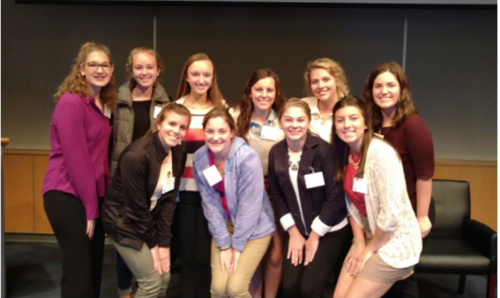 Back Row (left to right): Analise Kandra, Olivia Webber, Bella Lohmiller, Maria Richter, Hannah Beiting, and Tricia McHale.
Front Row (left to right): Paige Dean, Alex Fieler, Millie Poehner, and Carly Hawk.
CANstruction Project
Students spent the month of October building a structure out of canned goods to represent "Seton Strong" for the 2016 Open House. The students used 3-D printing software to model the project and determine the number of cans. The entire school then became involved in collecting cans of the right size and color. The students had the opportunity to learn a lot about design and construction during this project while celebrating their school. Afterwards, all the cans were donated to the Holy Family Food Pantry!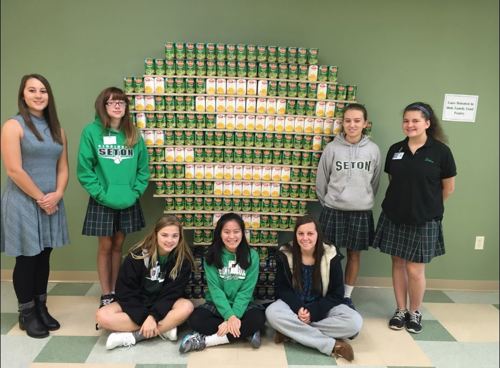 TSA-TEAMS Competition at the University of Cincinnati
The competition takes places on Tuesday, February 28, 2017. Seton is sending a team of eight students to compete against other high school teams both locally and nationally. The competition has three components – an essay submitted electronically prior to the competition, multiple choice questions based upon eight engineering-type scenarios with a theme of "Engineering the Environment", and a design/build competition using a predetermined collection of materials.
Varsity Team Members: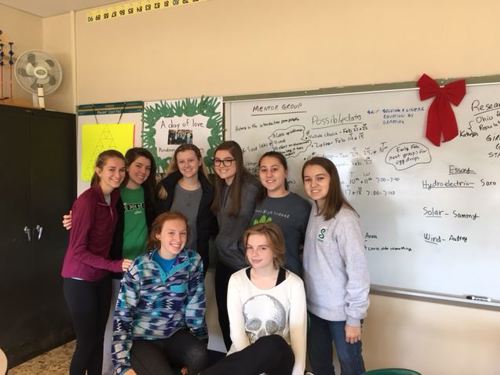 Back Row: Libby Mannix Sarah Neumeister, Hannah Schwaeble, Kathryn Eary, Anna Lanzillotta, Emma Ochs
Front Row: Audrey Laiveling, Sammy Riegler
       Upcoming Dates:
Meeting Dates (All practices are from 7:00 – 7:40 a.m. in room 229 at Seton)
Essay Practice
Tuesday, January 10
Wednesday, January 11
Tuesday, January 17
Wednesday, January 18
Egg Drop Device
Tuesday, January 24
Wednesday, January 25
Tuesday, January 31
Multiple Choice
Tuesday, February 14
Wednesday, February 15
Design/Build Practice
Tuesday, February 21
Wednesday, February 22
          Competition Date – Tuesday, February 28, 2017
Coding with Candice
Seton graduate Candice McCarthy '08 worked with Seton students for four consecutive mornings before school to introduce them to coding. The workshop piqued their interest and as a result, Caitlyn Thai, Sammy Riegler and Nina Wurzelbacher wrote code to create webpages for the Seton clubs on the Seton website.
 This year students will have an opprotunity to learn coding again with Candice.