General Info
Art Club members participate in various opportunities throughout the year. Each year provides different events.
Students work on murals and other art works throughout the school.
There are also visits to art museums and galleries, art fundraisers, and artistic volunteer work.
 Art Club is open to everyone and the meetings are held in the art room at 2:15 on Wednesdays.
Moderator: Margie Metz 
Please contact Mrs. Metz for any questions about Art Club at 

metzm@setoncincinnati.org
Art Week
Art Club set up interactive "art week" activities for the last week in March. As a school, every homeroom painted bottles to create a Chihuly sculpture of bottles. In the cafeteria, students helped create a tissue paper mosaic during their lunches. After school, students were invited to different activities in the art room. 
Monday: Finger painting! 
Tuesday: coloring pages 
Wednesday: Princess Diaries balloon and darts painting
Thursday: Bob Ross painting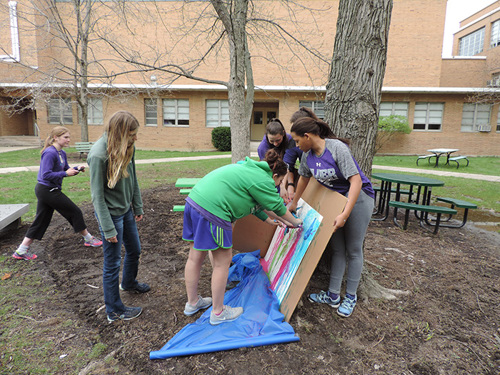 Window Painting
The Price Hill window painting contest ran through December. Art Club students went out into the community to paint windows of local businesses for the Christmas season!  painted a total of 4 windows. They created different Christmas themes for the local community and are excited about their work! 
This year, the Price Hill Window Painting Contest will be in November.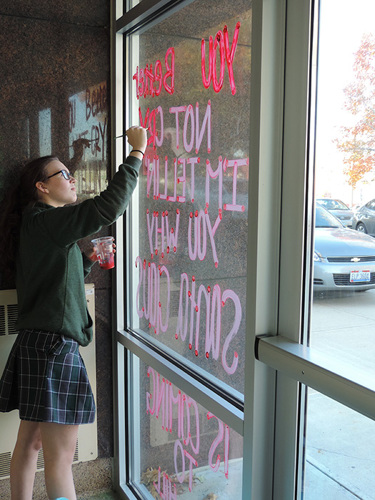 Pumpkin Decorating Contest
Any student can submit a pumpkin for the contest in October. Students buy their own pumpkins and decorate them in any creative way possible. Then the whole school votes. The winning contestants will win gift cards and the winning house will win charity points.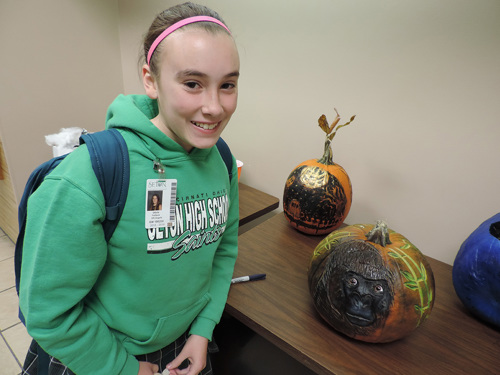 Seton Art Show
​The 46th annual Seton Art show is on Friday, May 5th, from 5-8p.m. in Seton's commons! The show features Art 4 seniors, AP artists, Art 3, Art 2, Art 1, Photography, Ceramics students, and a Recycled/Junk Fashion Show.  Please come out and see all of their hard work!