Don't skip the most important meal of the day!
Breakfast including sandwiches made to order AND iced coffee available every day starting at 7:00 a.m.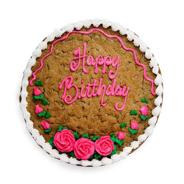 Order a Birthday Cookie
Contact Lorrie Huser, huserl@setoncincinnati.org, at least one school day in advance of the delivery day.  Include the name of the birthday girl, date you would like the cookie delivered and lunch bell (if possible).  The cookie will be delivered during lunch!
Cost is only $20 and can be paid in cash, check made out to AVI OR deducted from your EZ account.
Monthly Lunch Menu