ABOUT: Seton High School is excited to announce "Performing Arts 101" Camp.  This eight-day camp will equip young performers with skills needed to audition, prepare and shine in a stage production!
Seton chorus teacher Justin Kohler and Seton graduate Taylor Gray '16 will coach students on preparing for an audition, performing in musical theater numbers, stage hair and makeup, acting, and behind-the-scenes skills.  During camp days, young performers will rehearse, prepare and perform in a final showcase.
WHO: Any incoming 7th, 8th, 9th, and 10th graders (2018-2019 school year)
LOCATION: Camp days will take place at St. William's Father Reardon Hall from 12:30 p.m. to 3:30 p.m. with the performance on Friday, July 20 at 7:00 p.m.
AUDITION/INTERVIEWS: All students who sign up are asked to attend our auditions and interview day on Monday, May 12, 2018.  We will hold a short parent meeting at 5:00 p.m. with auditions running from 5:30 p.m. to 7:00 p.m. Please prepare a short excerpt (16 bars) to sing for us.
CAMP DATES AND TIMES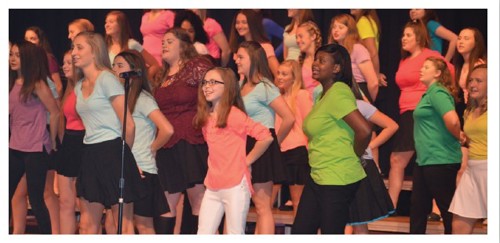 12:30 p.m.-3:30 p.m. each day
Wednesday, July 11
Thursday, July 12
Friday, July 13
Monday, July 16
Tuesday, July 17
Wednesday, July 18
Thursday, July 19
Friday, July 20* (dress rehearsal in the morning)
Performance
Friday, July 20, 7:00 p.m.
CAMP DAYS WILL INCLUDE:
-Coaching and practice for auditioning
-Preparing solos, duets, and chorus numbers in musical theater style
-Learn the basics of interacting with performance technology - mics, lights and sound
-Learn about and practice effective hair and makeup techniques for stage performances
-Work with live musicians to prepare a performance
-Build confidence while rehearsing alone, rehearsing with others, auditioning, and performing
-The camp culminates in a one-act variety-style concert on the evening of July 20th, 2018.
COST:
$135/person; includes camp t-shirt
Click HERE to register.