A Tablet PC is the best fit for Seton students!
Students can interact with the device in so many ways - it truly prepares them for future education and employment.
The active stylus pen makes writing and drawing accurate and the touch screen allows students to use their hands when interacting with the Tablet. A traditional keyboard is essential. High school students write a variety of papers - from two pages to 20 pages - and the traditional keyboard is the most efficient, easiest way to excel in the classroom.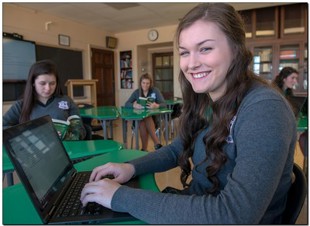 Tablet PCs are easily integrated across all classrooms. It can access and run web-based applications, has a full powered processor for power-hungry applications and has all standard external connection options (USB, SD card reader, etc.).
Our PCs are durable and have a long life. Our on-site Technology Department makes sure each PC will last a student through her high school career and the beginning of college. 
How much does the Tablet PC cost?
The cost of the Tablet PC, four years of maintenance and warranty are built into the cost of tuition.
Beyond the Tablet PC
Seton's technological vision goes beyond simply providing a laptop computer to each student. Teachers and students are encouraged to push beyond their comfort zones and achieve a truly forward-thinking learning experience. From research papers and art projects to spiritual reflections, Seton students will always have their high school achievements readily available from a secure website.