Nov. 11, 2016
Students Participate in Girls and Manufacturing Program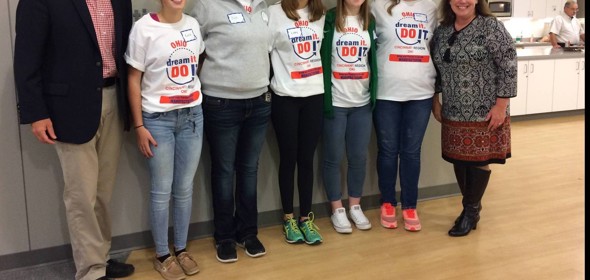 Seton High School students recently spent a day at VEGA Americas, an advanced manufacturing facility located in Oakley. Some students from Honors Pre-Calculus and AB Calculus took part in this event that is designed to familiarize female high school students with career opportunities in modern manufacturing. The visit was made possible by "Dream It, Do It OKI" as part of their Making It Real: Girls and Manufacturing Program.
"We were able to witness first-hand the various aspects of Vega Americas' operations, from engineering, testing and fabrication, to marketing and human resources," said junior Olivia Hensley.
During lunch the students enjoyed a question and answer session with four female professionals from different departments within VEGA Americas along with Icy L. Williams, CEO and owner of ATMOS 360 Inc. The panelists shared their educational backgrounds along with what it's like to work in a modern advanced manufacturing business.
"Seeing and listening to how various careers are related to manufacturing and how all of the aspects come together to make their company function was wonderful," said junior Libby Mannix. "The tour of their campus allowed me to experience all of the positions and see what daily life on a manufacturing job is like, which, as I learned, is not just working in a factory assembly line. This opened my eyes to possible career choices that I did not even know existed before, such as manufacturing engineering."
Seton Honors Algebra I, Algebra II and Pre-Calculus teacher Gina Rider said Seton is proud to have been a part of this incredible opportunity. "Our visit to Vega Americas inspired students to continue working hard in their mathematics and science classes and broaden their career goals and options for the future."