Jun. 25, 2018
Seton's val, sal prepared for future success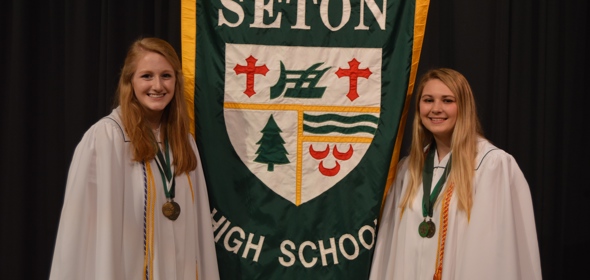 Seton High School's valedictorian is Lilly Witte; salutatorian is Maria Striebich.

Witte will be attending the University of Notre Dame and will be majoring in Political Science. Striebich will be attending the University of South Carolina and majoring in Biology.

Witte is a 2018 National Merit Finalist. While at Seton, Lilly was the Seton Helping Saints Service Coordinator, StrongHer Club President, O'Connell Senior House Captain and a member of Seton's Academic Team and Campus Ministry.

Lilly was also a Student Ambassador and a member of National Honor Society and National Latin Honor Society. Within the community, Lilly was a tutor and Big Sister at the Boys and Girls Club. She is a lector at St. William Church and a 2017 Buckeye Girls State delegate.

"My experiences at Seton High School provided me with a confidence that guides me in figuring out who I am now and who I will become," said Witte. "From engaging classes to supportive teachers and peers to a plethora of leadership opportunities, I find that my experiences at Seton gave me the skills to thrive in college as I move on to even more exciting and challenging adventures that will shape my future."

Striebich was a four-year athlete in both volleyball and track and field. She was a member of Saints for Life, National Honor Society and Spanish Club, and she was selected as a Hugh O'Brien Youth Leadership Conference ambassador her sophomore year.

During her junior year she received an Honorable Mention for her essay that was submitted to the Scholastic Art and Writing Competition, and during her senior year she was named the Kiwanis Student of the Month and an AP Scholar with Distinction.

"Seton has helped me to prepare myself for the future, both in college classrooms and outside of them," said Striebich. "Seton gave me opportunities to learn more about who I am as a person through clubs, sports, classes and other extracurricular activities. I'm excited to use these opportunities in college and beyond, and I'm confident that everything Seton has taught me has prepared me for the future."
Click HERE to read story on cincinnati.com.