Aug. 2, 2017
Envirothon - Environmental Science Class at Fernald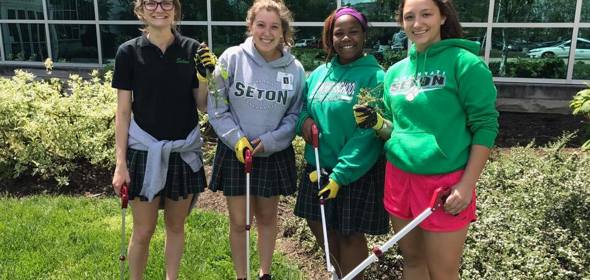 Seton High School's Environmental Science class recently participated in the 2017 Envirothon at Fernald Nature Preserve. The Ohio Area 4 Envirothon is a competitive, academic, outdoor regional team event for high school students that tests their knowledge in five areas:  Aquatic Ecology, Current Environmental Issues (CEI), Forestry, Soils and Wildlife.
Sarah Telscher '17 said it was both a great learning experience as well as a team bonding experience.
"At Envirothon there were five different stations that consisted of various environmental issues and topics," explained Sarah. "Within these stations, we answered a series of questions. I got a lot closer with classmates and learned even more about our environment. It was an awesome experience and I look forward to Seton continuing to take part in this great competition in the future."
Photo: Seton students enjoy being environmentally aware both in and out of the classroom. Here are some students from Mrs. Ann Jett's Environmental Science Class pulling weeds outside of Seton. L-R: Sarah Telscher, Emily Giglio, Sierra Brown and Reece Spille.