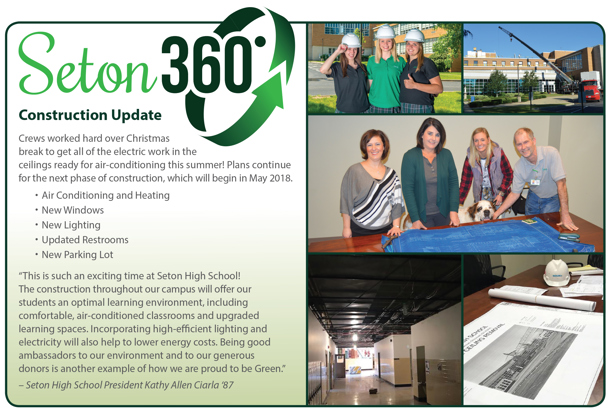 We are pleased to announce the start of the Phase 2 construction project at Seton.  Crews are hard at work renovating the building to provide our students with an optimal learning environment.  This is a very exciting time in Seton's history and we are grateful to the Sisters of Charity and all of the donors for making this possible, including the Phase 1 project (new roof, bathroom and MPR renovations and electrical upgrades) completed last fall.   

Please read through this bulletin as we have included important information regarding the project.

Phase 2 Construction for the Second and Third floors include:
New air conditioning and heating system, windows and lighting installed.  All upgrades are energy efficient
Classrooms will be painted, new white boards will be installed and the ceilings will be replaced
Restrooms will be remodeled
New Parking Lot added behind Gym/MRP
Work will begin on the third floor on April 30.  Classes on the third floor will be moved and disruptions will be kept at a minimum for the last weeks of school.  Once school dismisses on May 18, the entire campus will be under construction with work being done in the ceilings on the first floor and ground floor. 

Most areas of the school will be CLOSED this summer.  The only open areas will be on the first floor including the Main Office, Business Department, Parking Garage Connector Entrance, Gym and Commons.  Also, classrooms 112-117 will be utilized for office space this summer with the Help Desk, Advising and Advancement departments working in this area.

Beginning May 20 the Beech Avenue Parking Lot will be CLOSED.  This area will only be utilized by the construction team.  If you need to come to the campus over the summer, please use the parking garage and enter via the top floor connector into school.  Summer office hours are Monday-Friday 8:00 a.m. – 12:00 noon, with a very limited staff on Fridays.

Please note on July 2-8 the school building and ALL offices will be CLOSED including the Main Office, Business Office, Advancement Department, Athletic Office, Gym and Commons.  We will re-open July 9.  

Over the summer we will continue to update you on our construction progress.  We are grateful to the Construction Committee and the Building and Grounds Committee for all their work to improve our campus.  We ask for your prayers and patience as we work to provide our students with the best facilities to foster academic growth and prepare them for their futures.  We are proud of the exceptional Catholic education we offer young women and appreciate all your support. 

 
View the 'First Flush' Grand Opening Video -- HERE