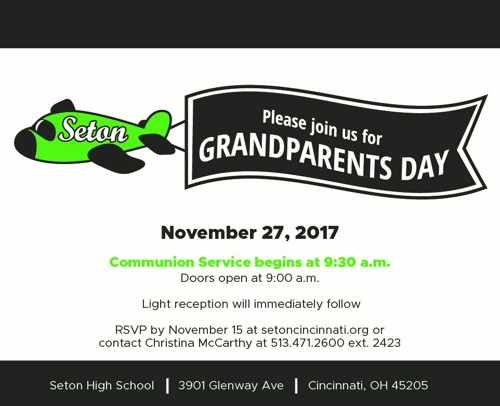 The deadline to RSVP was Novemter 15.
Questions? Call Christina McCarthy at  (513) 471-2600 x110       
The doors will open at 9:00 a.m. and the Communion Service will begin promptly at 9:30 a.m. in the Performance Hall   
A light reception and tour of the school given by your granddaughter(s) will immediately follow the Communion Service, and will conclude at 11:00 a.m.
Arrival Instructions
Grandparents are invited to park in Seton's garage on Vincent Avenue or in Seton's lot on the corner of Glenway and Beech. 
Please enter Seton through the breezeway doors if you are parking in the garage or through the Gymnasium doors if you are parking in the Glenway and Beech lot. Both the garage and the lot are wheelchair accessible.  There is an elevator inside the building which is accessible as well.